Startups & Projects
Dabble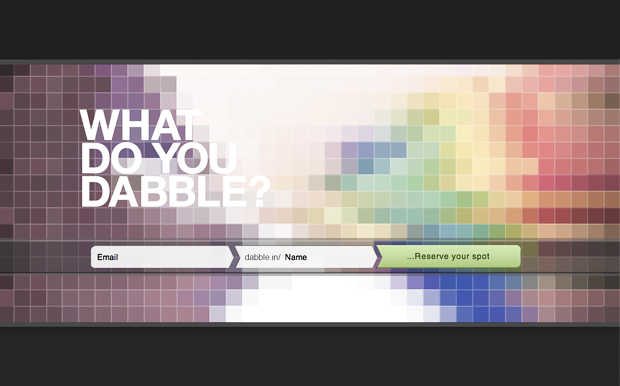 Status - On hold
Collaborators - Jason Cooper
Dabble.in
is a place to document and share what you do. With 5,000 signups within a 24 hour period, having been promoted by the likes of
Matt Mullenweg
and
Tim Young
, was named "king of viral sign-ups" by
Smashing Magazine
for the unique username reservation system.
CV Kitchen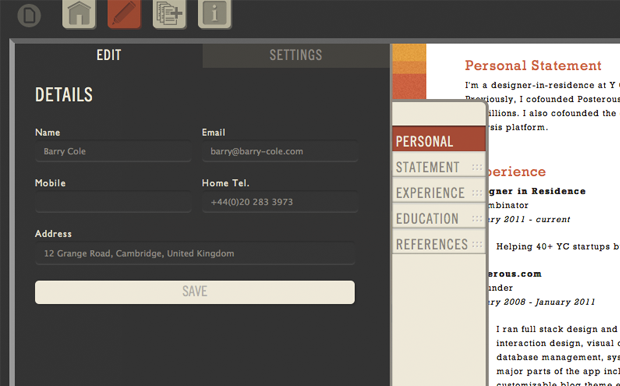 Status - On hold
Collaborators - Jason Cooper
Working with service designer Jase Cooper to disrupt the way we create, write and read CVs and Resumes. The CV as we know it today is simply ineffecient, we want to take back the CV to it's latin roots, "course of life". / cvkitchen.com
BE Broadband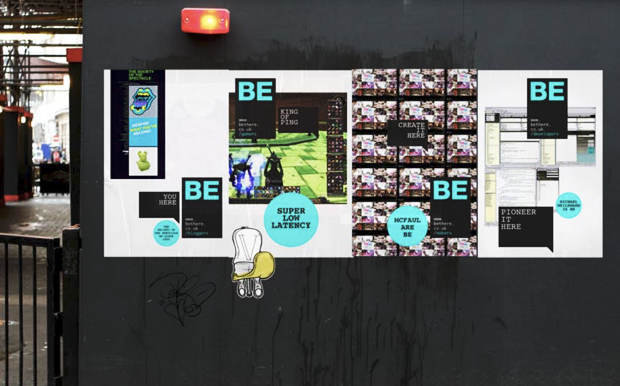 Status - Acquired
Collaborators - Dana (Pressman) Tobak, Stefan Nyberg, Per-Gunnar Ostby, Rickard Reite, Tania Hannaford, Johanna Arvestål Tisell, Brett Coles, Tom Williams, Louise Kirklew, Felix Geyr, Matthew Pease, Oliver White, Paul Isaacs, Robbie Hearn, Alinna Chung
Joining the fast paced UK internet communications (ISP) startup within the first 2 months of opening it's doors in 2005. BE is the first company to bring revolutionary disruption in the broadband industry with ADSL2+.

Originally consulting on online community growth and was a key founding member in the company's core value in user involvement and community. The company was later sold to Telefónica Europe plc (O2) for £50 million. I stayed on till mid 2009 assisting in the company's rebrand and in R&D of various projects including Second Life, Gaming and Co-Creation. / bethere.co.uk
Circle Hosting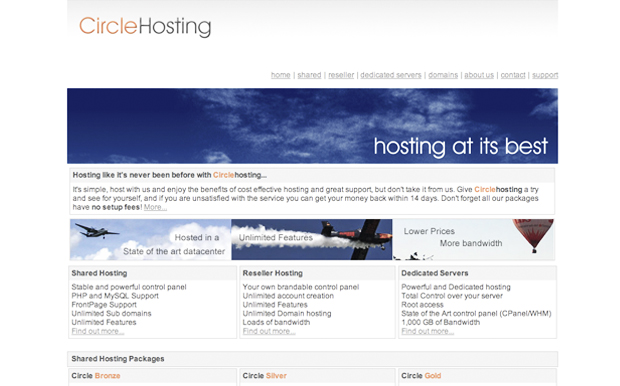 Status - Acquired
Collaborators - Carl Meredith, Edward Whiteley
Started in late 2003 with co-founders Edward Whitely and Carl Meredith. We merged two businesses in 2004 to form CircleHosting.net, later selling to a private business in 2006. We served 100+ customers, managed and supported our hosting infrastructure.
Claims to Fame
Making a Difference
In 2007 I worked on a children's summer camp teaching digital arts at Independent Lake Camp, PA. An experience full of fun, hard work, ups and downs. Throughout making lasting friends, with the one other thing that stuck with me is the realisation that I could make a positive difference in a person's life. A number of kids mentioning to me "your like the brother I wish I had". I later went back to camp in 2008 working as assistant head of Digital Arts.
In 2008 I applied to volunteer for Children's Charity Action for Children on the Independent Visitors programme with the ability to make a positive difference to a kid's life over the course of a number of years whom remains in care.
I truly believe that taking a step back and making a difference no matter how small, changes the world for the better.
Show Business
I attended Sylvia Young Theatre School part time as a kid in the late 90s/early 2000s and doing commercials, photo shoots and TV. Whilst hardly a child superstar, I can attribute a lot of the way I am now to my early years of acting and performing.
I totally recommend acting classes for any kid that's shy and geeky. Also toughens you up to criticism, imagine being given tough criticism such as "you suck, try again" any kid would have broken down in tears.
Performances: Alien's For Dinner (Book Cover Photoshoot), BBC - Grange Hill (TV Extra), On Digital (Promo Video), 1001 Voices @The Royal Albert Hall (Performance of Lion King's Circle of Life), Haribo (TV Commercial), Kellog's Coco Pops (TV Commercial)